Last Year Tonight at NH7 Weekender Meghalaya 2017
31 October 2018 · weekender · meghalaya
Tweet
Last year tonight, I was in Meghalaya for NH7 Weekender with my friends (also co-workers at the time), Deepu and Rishabh (aka Jain). We'd been aching to visit Meghalaya after watching Ethereal's "Meghalaya Alive!" video. And after hearing about Weekender happening there (with Steve Vai headlining it) there was no reason not to go!
We decided to stay in Meghalaya for a week after Weekender. Jain was appointed CIO (Chief Itinerary Officer) for the trip but he didn't come through with a plan in the two months leading to it, after which we decided to just improvise. We had an amazing experience!
This year, two of my friends, Tanay and Akash, are headed to Weekender. While answering their questions about what to do and where to go, I got the idea to compile the information in a blog post, so that it can be helpful to more CIOs out there! I'm also writing this for my future self (while the memories are still fresh) since I plan to treat this blog as my personal pensieve.
Here's the route we followed in Meghalaya (from Google Maps):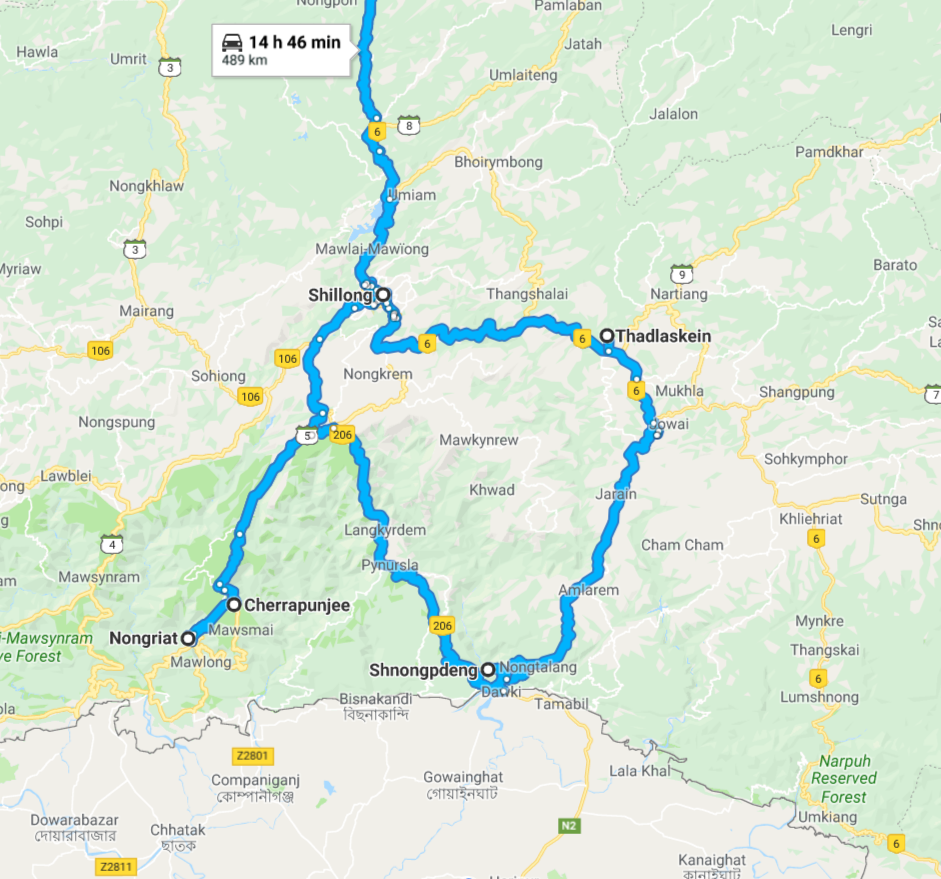 Last year, the Weekender took place in Thadlaskein (50 km from Shillong). There are multiple campsites around the area, we stayed at Highwinds which is the nearest one.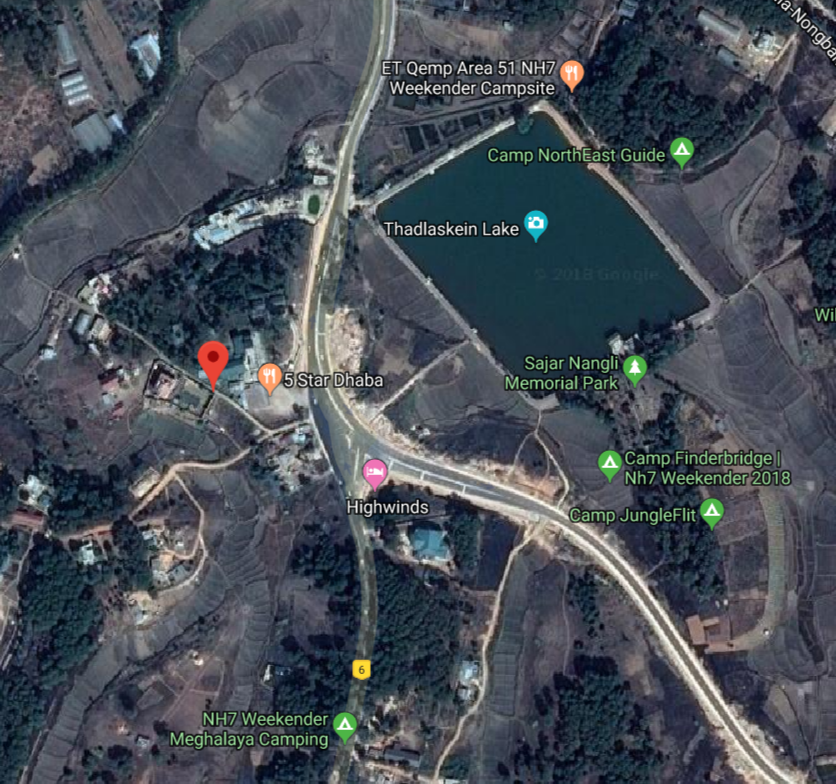 There's a tl;dr version if you're looking to save time and there's a slightly longer story version too.
tl;dr
This is the tl;dr version. You can add or remove days/places/activities/protips based on your travel duration. This year, Weekender is on 2-3 November, which is late compared to last year. I've used the imperative mood here.
This is the biggest protip I want to put out — rent a bike in Guwahati and do a bike trip! The roads in Meghalaya are the best you're going to get in India. Or you can book a cab in Shillong for the rest of the trip.
2017-10-26, Thu (Guwahati - Shillong, 95.6 km)

Leave Delhi and reach Guwahati.
Take a cab to Shillong.
Sort accommodation.
Visit Hotel Centre Point pub, Polo Irish pub.
Protip: Everything in Shillong is closed on Sunday, so plan accordingly.

2017-10-27, Fri (Shillong - Thadlaskein, 45.5 km)

Visit Trattoria for authentic Khasi cuisine.
Take cab/bus to Thadlaskein (Weekender site).
Pitch tent at Highwinds campsite.
Go to weekender.
Hang around at bonfire with Parvaaz playing an acoustic gig.
Protip: Get your own tents and pitch them at the nearest campsite.

2017-10-28, Sat (Thadlaskein, 0 km)

Plan rest of trip with the help of ChaloHoppo.
Find and drink rice beer.
Go to weekender.
Hang around at Thadlaskein lake.
Protip: Try not to get crushed by crowd while in the first row during the headlining act.

2017-10-29, Sun (Thadlaskein - Shnongpdeng, 70.3 km)

Unpitch tent.
Take cab to Shnongpdeng.
Visit Krang Suri falls.
Visit Dawki.
Reach Shnongpdeng, pitch tent near Umian river.
Put on a life vest and just float in the river for an hour.
Protip: Try not to get carried away, both literally and figuratively.

2017-10-30, Mon (Shnongpdeng - Cherrapunjee, 91.9 km)

Paddle a kayak.
Jump from a cliff into the river.
Unpitch tent.
Take cab to Cherrapunjee.
Reach Saimika resort and get a luxury cottage! (economy of scale)
Protip: Try to stay away from fishing boats otherwise you'll drive all the fish away!

2017-10-31, Tue (Cherrapunjee - Tyrna, 12 km)

Visit Seven Sisters Falls.
Visit Nohkalikai Falls.
Take cab to Tyrna.
Trek 3000 steps down to Nongriat.
Sort accommodation.
Protip: Look at the stars.

2017-11-01, Wed (Nongriat, 0 km)

Walk on living root bridges.
Trek to Rainbow Falls.
Find natural swimming pools and swim in them!
Beware of large spiders.
Protip: Do a quick warm up before your swim.

2017-11-02, Thu (Tyrna - Cherrapunjee, 12 km)

Trek 3000 steps up to Tyrna.
Take cab to Cherrapunjee.
Reach Saimika resort and get a dorm this time.
Protip: Don't go for a short trek to a nearby hill alone.

2017-11-03, Fri (Cherrapunjee - Shillong, 53.6 km)

Visit Arwah caves.
Take cab to Shillong.
Sort accommodation.
Visit Dylan's cafe.
Attend an acoustic gig in the outdoor kitchen of the place where you're staying at.
Protip: Take a deep breath and take it all in.

2017-11-04, Sat (Shillong - Guwahati, 95.6 km)

Take cab to Guwahati.
Board airplane and witness an airplane race.
Get welcomed by smog in Delhi.
Protip: Don't come back to Delhi, spare your lungs.
---
This is the slightly longer story version. I'll complete it soon!